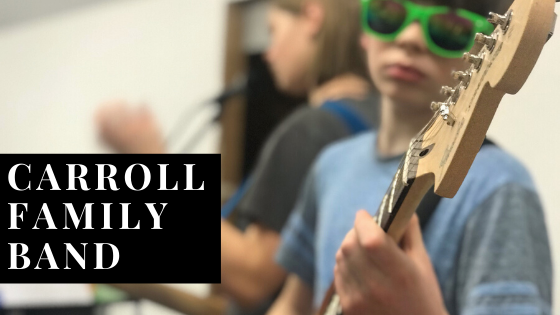 Have you ever wondered if there was an activity that you and your family could do that all of you would enjoy and have fun together doing? Some families go to the lake, some play board games together, and some have movie nights. There are a lot of fun things to do together as a family, but if you're looking for an educational and fun bonding activity to do with your family, please join me as I share the Carroll family's experience with you.
Let me introduce you to the Carroll family.
Todd, the husband and father. Amy, the wife and mother, and their three children. Emma Grace being the oldest, Packy the second oldest, and Charlie the youngest.
When they first had the idea to start a band as a family, all of them had little musical experience. Todd had taken guitar lessons as a teenager but never really did anything with it except practice by himself. Packy also had played a little bit of guitar, but other than that, the idea of starting a band together was something they thought would be nearly impossible.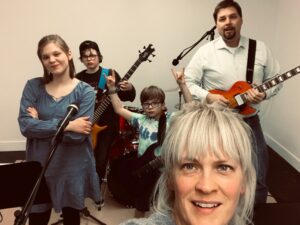 "When we first called Pellegrino's to see if this was something we could do, it seemed really crazy because we had such little experience. It was just like… okay, we have absolutely no idea what we're doing but could we give this a try?" Amy explained when I sat down for an interview with them.
"I had the idea of wanting to put a band together really just so we could learn how to play music and we could learn how to do it together as a family. No matter where we're at, at any time. It is something we can always enjoy doing together. It was really intimidating trying to find a place that was willing to teach a family band that knew very little and when we came here, Justin was so willing to jump right in and of course, Mark and the Pellegrino's staff have been so welcoming and that's what made the biggest difference. The fact that anyone can come and just give it a try is amazing. It wasn't easy to find a place that would do this. It seems like something that is very impossible to do until you get help from someone who knows what they're doing to help break down the pieces and put it all together." explained Todd
The Carroll family started taking band lessons at Pellegrino's about a year ago. Todd and Packy on guitar, Emma Grace on bass and vocals, Amy on drums, and Charlie on vocals. Charlie is also learning guitar right now as well.
"The coolest thing was the very first night we came here. Amy had never sat down at a drum kit all her life and Packy and I had picked around a little bit. But as far as all of us getting together and making music, that hadn't happened. So we got here and we didn't know what to expect. Justin, the band instructor came out and asked us what we do and if we had experience and we explained everything to him. He was willing to help and basically said, well lets just give it a shot! Mark, the owner was with Amy the first night and just showed her a basic drum beat of some kind and we just started playing and it just sounded like music! It was just so cool that it just started to happen that fast. Obviously it takes years and years to get good at it but the fact that you can just jump in there and start at any time is cool. When you see other people play in a band it seems impossible but it's really not, it just takes practice. The fact that this is something were doing together is really cool. Some of my favorite times is when we do a song and just nail it together and you hear Packy wale on a solo and it's like, wow he sounds awesome! Or Emma grace just started sing and to hear her with the sound system and her beautiful voice it's just like, wow were making this together and its really lovely! I just love to be apart of watching them develop and grow in their talent." says Amy and Todd
When learning a musical instrument there are going to be challenges, especially in a band. You run songs over and over. You make mistakes, get off pitch, play the wrong notes, and mess up about a million times. But that is just part of the learning experience and when you do it with other people you grow together in your mistakes and learn from each other.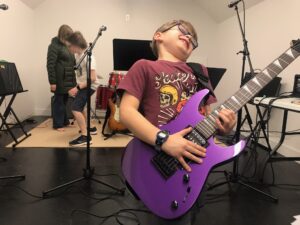 "I'm happy my family is here to play with me because I just can't do it alone. It's good to have help" Says seven year old Charlie.
When you play with a band you have other people to encourage you when you mess up and you can laugh together about your silly mistakes.
"Some of the most fun times are when we're playing a song and it sounds really great but then all of the sudden someone messes up. Like dad will start to go into a solo in the wrong key or something and we all start to laugh and mess up even more and it's just fun. Dad says sometimes his hand has three big toes as fingers when he messes up!" Chuckles Packy.
Music is something you can carry throughout your whole life. It is never too late to start. Whether you're wanting to be in a band, just jam with friends sometimes, or just learn an instrument as a hobby for yourself, It is something you can always enjoy. If you're scared to try it, just take the Carroll family's advice, it may be terrifying at first, but once you get some help you will not regret it!
"I would encourage everyone to give it a try, especially adults. I took guitar lessons as a teenager but I was never serious about it. I never played in a band or played with other people. So I'd have lessons and practice but never did anything with it. In 2015 I started playing again and practiced everyday but I hit that spot where if you're just sitting around picking the guitar by yourself you're only gonna get so good. I would go one step further and say, especially as an adult; not only should you give it a try but even though it's the scariest thing in the world as an absolute beginner, get in there and play with other people because I think we have made incredible strides in a year considering Amy has only been playing a year, Emma Grace has only been playing some of these instruments for at least for a year and Charlie is just now starting. You come a long way especially when you're playing with other people cause you get that experience of actually playing music together and not just practicing alone. This is a great environment for learning to play with other people and since there is the focus on the bands, that makes all the difference in the world… it's awesome!" – Todd Carroll