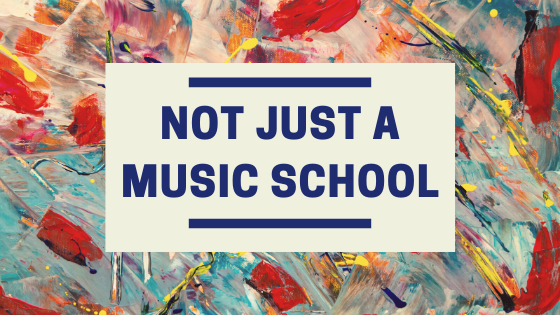 What makes Pellegrino's School of Music and Art different?
For starters, Pellegrino's is a family owned business. The owners, Mark and Teresa Pellegrino not only own Pellegrino's but they are also there for the daily events. With Mark being the main drum instructor and Teresa being the art instructor, they are both very involved in the business. Each student means so much to them.
"Its important for us to be involved in our business to make sure that the employees, students, and families are getting the best treatment possible. In addition it's important to be a part of the short and long term planning. Teaching to us is more than just giving knowledge. It's about giving our students an amazing experience that lasts a life time." Says Mark and Teresa.
When Mark and Teresa opened Pellegrino's in 2006 they wanted to create a family friendly learning environment that was open to all ages.
"When we opened the school, our main focus was to bring knowledge to all ages without forcing sales on students for something that isn't necessary. We wanted to create a business that strives to make a good work environment for all our employees. To us the most important part is quality over quantity." Says Mark.
To go along with being family owned, Pellegrino's staff is much like a family. Some of the teachers have been teaching with us since the day we opened our doors. All of our teachers and staff work really hard to make the students not only learn successfully, but most importantly have fun.
The instruction we give is based off of the students interest and style in music while also teaching music and art theory at the same time. There are some places that just teach you how to play songs, which is great. At Pellegrino's, we aspire to teach the theory behind the music so that the student may excel in their musical knowledge. We believe you can go so much further with music and art when you understand the theory behind it.
Some people don't realize this when they first come to Pellegrino's but we're not just a music school. Like I mentioned earlier, Teresa teaches art lessons. The art lessons can be private or group lessons and involve all different kinds of art forms, depending on your interest. We also offer a filmmaking class, which is super fun. It's always fun to watch the movies they create when they're finished with their projects.
Our primary focus at Pellegrino's is private lessons, but along with group art lessons, we also offer band programs, free open jams, and other group lesson opportunities. Our main focus is to teach but we just recently started offering sales as well. Provided by St. Louis Music and Dixon Drums, we have several things to offer. Including instruments, care packets, music books, pretty much any supply a musician could need.
There is so much to offer at Pellegrino's! We appreciate every single person that walks through the door and supports us. Like I said, we're a family, and there's always room for more.