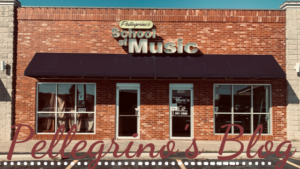 A walk down our hallway at Pellegrino's is a sweet little chaos of notes.
The knowledge of music filling the lesson rooms and brightening days.
Kids and adults tuning guitars, clicking drumsticks, warming up their hands in the lobby, and art students getting their brushes and pencils ready.
If you've ever been to Pellegrino's you get the main idea of the music and art school, but we'd like to give you a backstage pass to the everyday things that go on here.

We are going to share how music and art has affected our students and teachers over the years. Make sure to check out our first blog post, Video Games VS. Music in November!

Please join us on this exciting new step for Pellegrino's and feel free to send blog post requests on things you would like to hear more about!
Make sure not to miss any of our upcoming blog posts by joining our email list here – CLICK HERE